Visa, MasterCard, Debit, or Cash accepted
We will inform you of the full cost upfront before we come so you are prepared. Be aware that some keys and locks are more expensive or are a higher level of difficulty to work on.
After-hours service has price increases after 5 pm and midnight.
Price discounts for students and seniors with valid IDs.
Price discounts for AMA Members (active card number required)

Note: for keys bought online, we would like to help you with your key, however, we do not warranty the key as they are partially made of magnetized metal and can damage our cutting tools and the chip may be defective. For a similar price, we supply the key for a full warranty and you don't have to wait.
Know what you're paying for, don't take the shop mechanic's estimated price at face value. Do your own research to see that our skill level is of value to you. We fix the problem instead of replacing it to minimize cost out of pocket. Cheap replacement parts may recreate the same problem that happened in the first place. A common theme, cheap is not always best, and often fixing the part prevents a problem from happening again.
Scammers: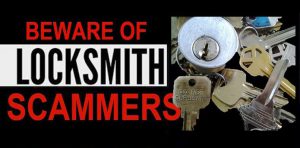 We have heard many customer stories about how a locksmith said it would be a mere $35 to pick open the front door. The locksmith came out and charged an additional $200 to drill out the lock. $235 to drill the lock, and no replacement? That is poor locksmith service and predatory practice that is frowned upon by professional locksmiths. We give you the full price over the phone. Keep in mind, on broken key calls especially, there may be more going on with the lock than what was discussed on the phone. If you need a lock repair, the price will be discussed, and a deal struck before the lock service is rendered. We are skilled professionals that understand and value good customer service.
Don't fall for the bait-and-switch tactic that scammers tend to use. A cheaper price advertised is often a tactic used to get you to call them. Unfortunately, some consumers have learned the hard way that the price changes at the door and that the advertised price is not, in fact, the full price, but the service call alone. For the consumer's peace of mind, in the city of Calgary, the Alberta Solicitor General's Office is currently attempting to catch people using this false advertising tactic in order to rectify and stop the perpetrators of this fraud.
Now Serving Calgary and surrounding areas.