** First posted as "Have You Ever Wondered: How Much is a Locksmith?" , by Rekey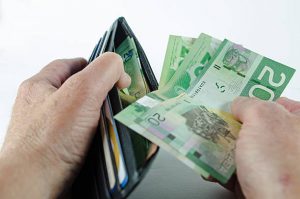 When you find yourself in need of a locksmith, it can be tricky to find a reputable company at a reasonable price. Searching online can leave you feeling overwhelmed by the number of choices and vast variations in cost. Some options may have low prices but not seem overly reliable, and others might appear professional and experienced but are charging more than you can afford or think you should have to pay. So how do you know how much is too much and how little is too good to be true?
According to Home Advisor, the national average cost for locksmith service is $151, with most people spending somewhere between $95 and $208. But what does that really mean? Is that how much you should always expect to pay regardless of where you live, what you need to be done, and when you need someone to do it?
There is no way to determine one perfect price because too many factors affect the cost of hiring a locksmith.
Three main elements need to be considered when trying to figure out how much you should expect to pay your locksmith:
The service you require,
Where you are located in relation to the company, and
When you require the given service.
If you take the time to factor in the what, where, and when, you should be able to get a good idea of a reasonable price range for your locksmith service.
Before diving deeper into these determining factors, it's important to note that you should never look to pay less than $50 for a locksmith unless you are just having copies of a key made or some other minor service. You might see ads online for cheap locksmiths that only charge $10 or $15, but these ads are scams. 95% of online locksmith ads are scams, and there is no way a reputable licensed and insured locksmith can charge that little and stay in business.
4 Locksmith Services, 4 Different Prices
When hiring a locksmith, the cost will depend first and foremost on what kind of service you require. You can't expect to pay the same price for replacing all of your exterior locks as you will if you call for assistance when you are locked out of your home. The key to not being overcharged is knowing the going rates for some of the various services locksmiths offer.
1. Rekeying Locks
If you are looking to change the locks on your home and don't want or need to replace all of your lock hardware, rekeying is the best option for you. It is a simple process in which the pins that make up the inner mechanism of your lock are reconfigured, so the keys for that lock no longer open it. New keys are cut to match the new configuration, and the lock is as secure as if it were brand new.
Because this service does not require the purchase or installation of new hardware, it tends to be much less expensive than replacing locks. However, the cost can still vary widely depending on how companies charge for time, travel, and the number of locks rekeyed.
On average, you will likely spend between $100 and $200 to have all of the exterior doors on your home rekeyed. Some companies will offer an all-inclusive rate up to a certain number of locks rekeyed, but it is more likely that you will have to pay a service charge and then an additional fee per lock.
2. Replacing Locks
If a lock is damaged or poorly made and unsafe, replacing it may be your only option. Replacing locks tends to be one of the more expensive services offered by locksmiths because you have to both purchase the new hardware and take the time to have it installed.
Most companies will charge a service fee just for coming to your home and they will also charge you for their work, usually per lock installation or sometimes by the hour. It is reasonable to pay somewhere between $40 and $100 for the service call, depending on where you live and when you need service, and then an additional $20 to $40 per lock installed.
It is important to make sure that you know exactly what you are going to be charged for when deciding who to hire as your locksmith so that you can consider the total cost. If the service charge for a company is more expensive but you only have to pay the service fee and cost of hardware per lock, you may still be paying less overall than if a company has a lower service charge but charges you for parts, labour, and other added fees.
Always be sure to ask for upfront pricing while on the phone with the company and then confirm the price when the locksmith technician comes to your home before starting any work.
3. Lock-Outs
Most people hope they never experience the moment of dread that washes over you when you realize you are locked out of your house. While no one aims to wind up in this situation, it inevitably happens to the majority of people at some point in their life.
If you've planned ahead, you might have a friend, family member, or neighbour on hand with a key that can help you get back into your home, but if you have no other way in, you will have to call a locksmith.
Lockouts are the time that you need to exercise the most caution when hiring a locksmith. Because they are generally emergency situations that require immediate assistance you do not have as much time to shop around and do thorough research before deciding who to hire. As stressed as you may be, you will benefit greatly from taking even just a few additional minutes to read a few reviews online and ask a few questions when you call the company before requesting service.
The price of lock-out service varies depending on time, location, and the locksmith's availability, but you should not have to pay more than $100 or $150 unless the circumstances are extreme. You also want to insist that your locksmith pick your lock rather than drill or break it in order to gain entry to your home because it will cost far more if you have to replace the lock on top of the service fee. 95% of locks can be picked by a trained, professional locksmith, so do not allow yours to try and tell you otherwise. If they insist on drilling or breaking the lock to gain entry, it is likely a scam or an attempt to charge you more than is necessary.
If you are locked out of your car, the price for a locksmith should be comparable, but make sure that the company you are hiring services auto locks because not all do. You should exercise the same caution when choosing a company because auto locksmiths can scam you just as easily as any other.
Before calling a locksmith, it is a good idea to call roadside assistance if you have it, like AAA. Usually, plans will have a list of pre-approved businesses, and sometimes they might even offer a discounted price.
4. Other Locksmith Services
People only tend to think of calling a locksmith when needing to change or replace a lock or if locked out of their car or home, but they do much more than that. Aside from your exterior doors, there are locks on all sorts of items around the home that may require repair or replacement, and professional locksmiths are generally trained in basic home security as well.
Different services all have their own unique price tags, which can range from a few dollars to several hundred. Cheaper services that tend to fall below the average cost of hiring a locksmith include jobs like cutting copies of keys, which are usually only a couple of dollars a piece unless some type of specialty key is needed, and performing smoke and carbon monoxide detector checks, a service many locksmiths offer of which few customers are aware.
Locksmiths will repair or install locks on windows, patio doors, mailboxes, and more, and the price usually includes the service charge and an additional fee that covers labour and/or any necessary hardware. Just like with exterior lock replacement or re-keying, the service fee should fall somewhere between $40 and $100.
When comparing different companies' prices, the most important thing to remember is that you need to find out exactly what the cost includes. Ask what the service fee is, if they charge separately for parts and labour and if there are any factors that could change your estimate upon arrival. If a price sounds unreasonably high or low, it probably is, and you should move on to another company.
What About Time & Place?
While the service you need to have performed is the primary factor in determining the price of hiring a locksmith, the time and place can make a significant difference in the cost as well.
The fee charged by a locksmith covers more than just the work performed on a service call. A locksmith has all sorts of expenses that have to be figured into the price the customer pays in order for any profit to be made. Reputable companies will be bonded and insured, as well as registered or licensed depending on the given state's requirements, which can be costly. They also have to pay for their transportation, tools, and equipment, so you'll want to keep that in mind when they tell you their fee.
Just like the cost of living changes from city to city so does the cost of hiring a locksmith. Depending on the city in which you live and the requirements placed on locksmiths in your state, as well as the local cost of fuel, the average price charged by locksmiths in your area is going to vary.
You also have to consider where you are located in relation to the business. If you live within the city limits and in close proximity to the locksmith, you should not be charged additional travel fees, but if you live outside of town in a more difficult to reach location, you should not be surprised when they charge extra for coming to you.
The time component as it relates to price should be pretty straightforward. Rates are going to be lower when you schedule service during regular business hours than if you need a locksmith to come at night, over the weekend, or on a holiday. It is not uncommon for rates to double, or even triple, for service during these extended hours.
There are locksmith companies offering emergency service around the clock, but they often charge an hourly rate on top of a general service fee, meaning that the cost is largely dependent on the severity of the situation. As with all locksmith services, the best way to make sure you are not being overcharged is to have a reputable locksmith on hand, so when you find yourself in need you aren't caught unprepared.
11 Tips for Hiring a Locksmith
Unfortunately, locksmith scams are surprisingly common. The Better Business Bureau reports trouble with locksmiths as one of their most commonly received complaints each year, and the problem is thought to be even worse than it appears due to the difficulty in tracking down scammers.
The best way to protect yourself against scammers and make sure you are paying a reasonable price for your locksmith is to be well-informed and always prepared. These 11 simple tips outline the most important information you need to make sure you know before deciding who you want to hire.
Call more than one company to compare prices. Be sure to describe the services you require in as great of detail as possible in order to get the most accurate price estimates.
Avoid businesses that use a generic greeting and do not answer the phone with a specific company name. If they are being vague, there is probably a reason, and this should be a red flag.
Read reviews and see what kind of online presence the company has. The experience other customers have had is often indicative of the service you can expect to receive, and active social media can be a good indicator of a company's legitimacy.
Ask for an estimate of the total cost, what that cost includes, and what factors could potentially cause that price to change. You may even want to ask for the technician to bring a written copy of the estimate to ensure the company stands by its original price.
Find out if the business is licensed or registered if that is a requirement in your state (currently there are only 15 states that require locksmiths to be licensed). Otherwise ask about training, experience, and any other certifications to ensure they are well-qualified to service your locks.
Make sure the locksmith is bonded and insured. Most reputable companies will want to be for their own protection and should be able to provide you with this information.
Ask what kind of payment they accept and think twice before using a locksmith that will only accept cash or who has a "broken" credit card machine. This is a warning sign that the locksmith does not want your credit card company to be able to track them down when you aren't satisfied with your service or desire a refund.
Find out where they are located specifically and what, if any, fees there will be for travel. Some companies advertise locally but are not actually in that area, charging extra to travel to you. There are locksmiths in nearly every city, so finding a company closer to you may be a more cost-effective option.
Be wary of a locksmith who arrives driving an unmarked vehicle and in pedestrian clothing. Professional businesses should provide a company uniform and transportation for their employees.
Do not use a company if they demand upfront payment. This is often a major indicator that the locksmith does not intend on completing the job or doing quality work. Make sure you receive the service you are paying for before handing over your hard-earned money.
Take the time to find a reliable and reputable locksmith before you need one. You want time to be able to do your research without the pressure of needing emergency service or the stress of being locked out of your home.
For more information about finding a reliable, professional locksmith, the Canadian Trade Commission offers its own set of guidelines and encourages those who have fallen victim to a locksmith scam to file a report.